The Ultimate Guide to Paint Brush Types
This handy guide will answer your paint brush type questions and give you some inspiring painting ideas to get you started.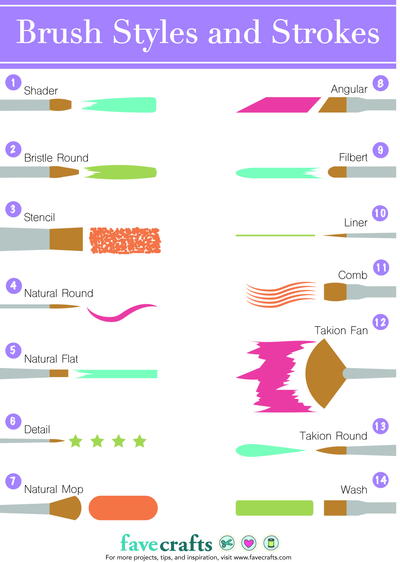 The Ultimate Guide to Paint Brush Types
The best way to get started on any painting project is knowing all there is to know about paint brushes. There are so many different types of paint brushes out there, it can get overwhelming, but you need not fear with this useful guide. With The Ultimate Guide to Paint Brush Types, you'll be an expert in no time on the subject. Become a master of your craft with everything you need to know about paint brushes.

Once you've brushed up on your brushes, check out the amazing painting ideas below to put them to good use. You'll love these fun ideas that will leave you with beautiful DIY wall art and other gorgeous DIY home decor. Don't worry if you're not too familiar with painting, because these painting crafts are easy and painless to follow. You'll love being a painter by the time you're done.

Everyone will adore the projects you create, and you'll always be able to produce amazing DIY gifts for your friends and family whenever you feel inspired.



Different Types of Paint Brushes and Their Uses
Knowing your paint brush types is a fundamental step in becoming a better painter. To get started on a painting project, it's helpful to know different paint brush types so you can produce the best work possible. Below, you'll find a list of a large variety of brush types for every need. It's amazing how many types of brushes there are out there. You'll be on your way to becoming a painting expert with this handy guide.

References: art-is-fun.com, winsornewton.com
Shader: Also known as an angular flat, this brush type is flat and has angled bristles, and is good for filling corners. This brush is fairly versatile, as it can create both broad and narrow strokes.

Bristle Round: Made from boar's hair, bristle brushes are good for thick paint like oil or acrylic. A round brush provides many uses, including detailed work, controlled washes, and thick or thin lines. 

Stencil: This brush type has short, firmly packed bristles and come in a variety of sizes, so they can be used for a variety of purposes.

Natural Round: This paint brush type is similar to the bristle round brush, but in the case of the brush that's pictured, is smaller with shorter bristles.

Natural Flat: Made from natural materials, this brush type has a square end and is good for bold strokes, washes, and filling wide spaces. It's a very good, standard brush to have around.

Detail: As the name suggests, this round, short-bristled brush is good for detailed and short strokes.

Natural Mop: Ideal for watercolor, this paint brush type is large, round, and dome-shaped, and is used to cover entire, large areas.

Angular: Similar to the shader, this brush type is flat with short hairs on one end and longer hairs on the other end. It is best used for precise strokes, lines, and curves.

Filbert: This brush type is flat with an oval-shaped end, and has medium to long hairs. It's best for blending and for creating shapes with soft ends, like flower petals or leaves. 

Liner: The thinnest brush type you can find, this brush is has long, thin bristles and is used for lines and lettering.

Comb: This paint brush type is ideal for creating realistic-looking grass and hair. It can also be used for cross-hatching and creating other unique textures.

Taklon Fan: Good for smoothing, blending, and feathering, this paint brush type is flat and has splayed bristles. It can also create textures like clouds and leaves on trees.

Taklon Round: Like the other round brushes, this brush is good for many uses, including detailed work, controlled washes, and thick or thin lines. However, taklon is a synthetic fiber rather than a natural one.

Wash: Used mainly for watercolor, this brush type has large, soft, flat bristles. It creates flat washes.
Painting Ideas to Get You Started
Here are just a few of dozens of painting projects to get you started. Choose from the fun ideas below or allow them to inspire you to create your own project. You'll have a blast creating your own unique artwork that you can give away as gifts or use as DIY home decor. Don't worry if it's your first time, because painting gets easier with practice.
Your Recently Viewed Projects
Join our community of 5 million crafters!
Get free craft projects, exclusive partner offers, and more.
Thank You for Signing Up!
There was an issue signing you up. Please check your email address, and try again.