Pick-a-Stitch Knitting Software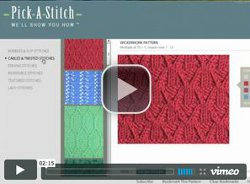 Pick-a-Stitch Knitting Software
Gifted by PJ Young Publishing, Inc.
www.pick-a-stitch.com/
Reviewed by Rebecca Brown
Last week, I was shopping for a new knitting stitchinoary when I received an opportunity to review the Pick-a-Stitch application. The program ($17.95) starts with over 130 different stitch patterns and unlike a book which never updates, you can add on a monthly subscription to get new stitch patterns added to the app. You can get a 6 month subscription to update your library for $8.95 and 12 month for $15.95. Even if you don't have a subscription, you can chose to add patterns from a particular month to your library for a one time cost ($2/month). The program allows you to preview the swatches (with a thumbnail) and gives you title, rows and sts for that pattern. (Eg. Woven. Multiple of 4+2, repeat rows 1-24.) You will need to restart the application to have access to the new stitches.
The Pick-A-Stitch application is compatible with Windows 7, 98, Vista and XP; Macintosh OS 10.5 and above. Unfortunately it is not currently unavailable for iPads or tablets. Thankfully, I do most of my designing at home in my living room where I have my laptop. I would love to see a mobile version in the future as I normally travel with a Samsung Chromebook.
When you open the program, you are greeted with a list of 6 different stitch options; Bobbles & Slip Stitches; Cables & Twisted Stitches; Edging Stitches; Reversible Stitches; Textured Stitches; and Lacy Stitches. You can browse through each selection by looking at a larger version of the thumbnail, written instructions or charted instructions. The knitting instructions are extremely friendly as all relevant symbols and abbreviations are defined next to the pattern. Most of the book stitctionaries I own require you to flip back and forth to the back of the book to get the key.
The best feature of this program is the ability to bookmark patterns that you like. You can then easily look at your favorite stitch patterns without needing to browse through all of the categories again. I love that stitch patterns are saved in the bookmark section in the order that you add them, which makes it easy to compare certina stitches side by side. There is, however, a big flaw to this feature. The "Clear Bookmarks" button is right next to "Bookmark this pattern" and immediately clears all of your selections. I wish that there were an "Are you sure?" prompt before the clearing occurred. There is also no way to remove a single pattern from your bookmark collection, although you can bookmark a pattern more than once.
You have the option to print any combination of the swatch, written instructions and chart. You have the option to change the color of each swatch, which is useful if you want to print all swatches in the same color for comparison. (Unfortunately this color preference does not get saved to your bookmarks.) You will need to print out swatches individually as there is no option to print all of your bookmarked patterns at once.
In addition to what I mentioned previously, there are some changes that I would love to see in the next version of the software. I would love to make the swatches searchable, where you could search by the number of stitches in the repeat or name of the swatch. I would like to be able to view all of the swatches in a grid pattern (like in the monthly preview) rather than just in the vertical column. Currently, making the program full screen does not change the size of any of the windows, it would be nice if this allowed you to either zoom in further or would enable you to see an entire chart in one screen.
Ultimately I think that the Pick-a-Stitch program is a step up for in-print "stitchionaries." The price is comparable with many books, you can easily browns through swatches and the knitting instructions are much more user friendly than many books. I also think it is great that you can expand your collection of patterns through monthly subscriptions or preview the new patterns before deciding to purchase them a la carte. It currently is not extensive enough to replace my books, but it is certainly a welcome addition to my personal library.
Pick-a-Stitch Knitting Software Video Review:
Free projects, giveaways, exclusive partner offers, and more straight to your inbox!
Tags / Related Topics
Your Recently Viewed Projects

Something worth saving?
SAVE all your favorite crafts
ADD personal notes
QUICKLY reference your crafts
Sponsored Content