11 Crochet Shawl Patterns: Crochet Poncho Patterns, Free Easy Crochet Patterns and More
11 Crochet Shawl Patterns: Crochet Poncho Patterns, Free Easy Crochet Patterns and More
Find a shawl crochet pattern to make for every season and learn how to crochet a poncho with this Free eBook!
When sweater weather hits, you don't have to settle for a traditional sweatshirts or jackets. Wear a shawl or a poncho instead and take your outfit from average to fabulous. The 11 Crochet Shawl Patterns: Crochet Poncho Patterns, Free Easy Crochet Patterns and More Free eBook provides readers with free easy crochet patterns that crocheters at all levels can make. This free eBook is split into two sections, Crochet Shawl Patterns and How to Crochet a Poncho.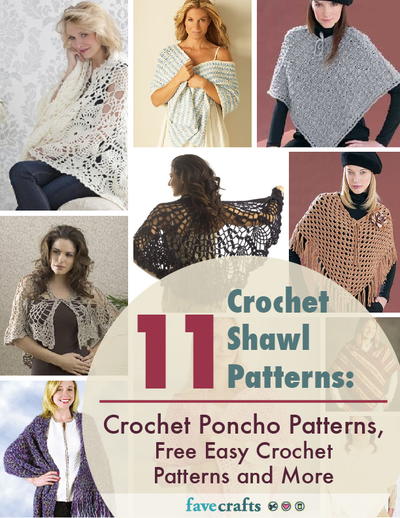 Shawls are perfect for all types of weather because they keep you warm without the bulkiness of a jacket. You can easily make your own shawl with one of these free easy crochet patterns in the free eBook. You will want to try creating all of these crochet shawl patterns because they are stylish accessories you can throw over any attire, casual or formal.

Ponchos are a great alternative to all the sweatshirts and jackets overwhelming your closet. Ponchos are ridiculously cozy and comfortable. Plus, paired with a cute pair of boots and jeans, you'll look fashionable for all your events in cold weather. You can skip the trip to the mall in search of the perfect poncho and instead learn how to crochet a poncho with any free crochet poncho pattern featured in this eBook.

Click here to download 11 Crochet Shawl Patterns: Crochet Poncho Patterns, Free Easy Crochet Patterns and More Free eBook.

11 Crochet Shawl Patterns: Crochet Poncho Patterns, Free Easy Crochet Patterns and More Free eBook
Table of Contents
Note from the Editors

Dear Readers,

Keep warm during those cool evenings with this collection of free crochet shawl and poncho patterns. Great for crochet beginners and those looking for a quick and easy crochet project, this collection of tutorials is perfect for having on hand throughout the year.

Ponchos and shawls are always in season, and they're great wardrobe staples for women of all ages. Create them just as you see here, or swap in a different colored yarn for a whole new look.

There's something for everyone inside this free eBook, and we just know you'll find yourself coming back to these crochet shawl patterns again and again!

You can find more craft projects, great activities for kids and decorating ideas at www.FaveCrafts.com.

Our eBooks, like all of our craft projects, are absolutely FREE. Please feel free to share with family and friends and ask them to sign up at our website for free newsletters from FaveCrafts.com.

We hope you enjoy reading and creating!

Sincerely,

The Editors of FaveCrafts

www.FaveCrafts.com
Click here to download 11 Crochet Shawl Patterns: Crochet Poncho Patterns, Free Easy Crochet Patterns and More Free eBook.
What's in this Free eBook
Crochet Shawl Patterns
Downton Abbey Shawl (pg. 4): Love the costumes on Downton Abbey? Well, here's a beautiful shawl that's reminiscent of the costumes on the popular TV show. Sharpen your crochet skills and relax in luxury and style with this Downton Abbey Shawl. The great thing about this shawl is that it can easily transition from summer to fall or winter to spring. This pattern can also be used to create a comfy throw that will add elegance to any couch or chair.

Striped Crochet Shawl Pattern (pg. 18): Use this free crochet shawl pattern to create a subtly striped wrap. The shawl is quick and easy and worked lengthwise on a large hook. Perfect for draping over your shoulders during a cool summer evening, this Striped Crochet Shawl Pattern is one you'll find yourself using again and again. You can also use this lovely shawl as a scarf come winter and fall. Perfect for beginners and advanced crochet fans, this striped crochet shawl is a great project to add to your collection.
How to Crochet a Poncho
Open Pattern Poncho (pg. 19): This crochet poncho has an open pattern which creates a fishnet look that is modern and chic. For all skill levels, this poncho pattern from Bernat Yarns is fun and easy to make. Add a touch of sophistication to any outfit with this effortless pullover. Make one for all your friends and family to keep them warm and stylish during the cooler seasons of the year.

Patterned Poncho (pg. 24): For the intermediate skill level, this crochet poncho from Bernat Yarns has eyelet detail around the edges and a textured pattern. Nothing pulls your look together like adding an extra layer to your outfit with a poncho. This poncho adds dramatic flair to your ensemble and keeps still you warm.
Need Help Downloading this Free eBook?
FaveCrafts eBooks are free, downloadable craft project collections organized around a theme, such as Easter, Graduation or Low-Cost Clothing Crafts. These eBooks are PDF documents that can be downloaded off our website, saved to your computer, and/or printed out for easy reference while crafting. We think eBooks are a great way to offer a free collection of craft products to our users. We publish new eBooks every month. Our eBooks are also offered on iTunes and the Kindle store on Amazon.

If you are having trouble downloading our free eBooks, visit our FAQ page here: How do I download the eBook?
Don't Miss Our Other Free eBooks!
If you enjoyed this eBook, you won't want to miss any of our other downloadable craft collections. You can browse our entire library of free eBooks here.
Sign Up for Our Free Newsletter
The 11 Crochet Shawl Patterns: Crochet Poncho Patterns, Free Easy Crochet Patterns and More eBook is absolutely free! If you decide that you love the eBook and would like more free craft projects, don't forget to sign up for our free e-mail newsletter "Quick and Crafty" to become part of our ever-growing craft community. By subscribing to the newsletter, you will receive:
Six weekly emails with free crafting patterns, tips, collection pages, videos and more + a weekly wrap-up.
Chances to win books and products from our weekly giveaways and contests.
New FREE patterns and eBooks made available to you throughout the year.
Access to our free pattern library full of over 1,000 of free crafting patterns.
The opportunity to share ideas and help others in the crafting community.
Now that you are hooked on these free easy crochet patterns for every season from FaveCrafts.com, it's time to get crocheting! Make a crochet shawl pattern or mix up your look and try your hand at creating a free crochet poncho pattern. This free eBook teaches you how to crochet a piece of clothing that will take your outfit from cute to fabulous! Plus, the crochet projects featured in this eBook are not only stylish, but functional as well. They keep you warm without a bulky jacket or sweatshirt to weigh you down.

With this eBook, you can also surprise you sister with a shawl or present your friend with a poncho. These patterns make a great gift for anyone's birthday at any time of the year. If you're on a budget, but want to treat yourself to something new without the hassle of shopping, make yourself one of these free crochet patterns. You will find the perfect pattern for all your shawl and crochet needs right inside this free eBook.
Click here to download 11 Crochet Shawl Patterns: Crochet Poncho Patterns, Free Easy Crochet Patterns and More Free eBook.
Your Recently Viewed Projects
Join our community of 5 million crafters!
Get free craft projects, exclusive partner offers, and more.
Thank You for Signing Up!
There was an issue signing you up. Please check your email address, and try again.