Best Yarn for Amigurumi
Every crochet project needs a certain type of yarn, including amigurumi! Find out which yarn is best for crochet amigurumi patterns.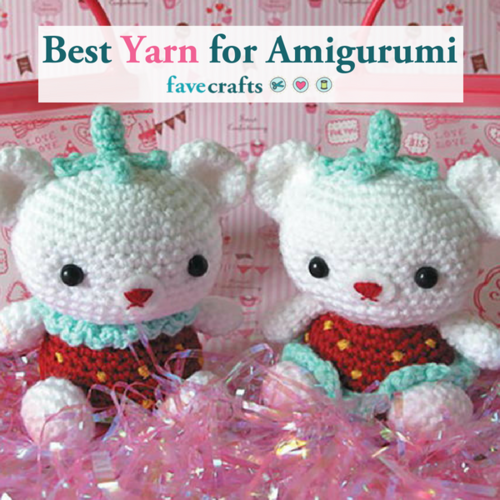 Choosing the right yarn for our crochet patterns is essential. If you don't choose the perfect yarn for your crochet hat, you might end up with a thin or itchy hat! And it's no different for amigurumi. Like all of our other crochet projects, we always want to use yarn that will beautifully complement our crochet amigurumi patterns.

Most of the time, people crochet amigurumi dolls as a gift to their children, grandchildren, or other young loved ones. So, they think that you should use a cuddly and fluffy yarn. Yet, these types of yarns are the worst ones that you could use for amigurumi. If your amigurumi doll is detailed, using a soft yarn will make the pattern difficult to crochet, and you won't be able to build its shape.

So, for crochet amigurumi, you should usually use a worsted weight yarn that is cotton, semi-cotton, or acrylic. These types of yarn are stiff enough to hold the pattern's shape but also flexible enough to create its details. Essentially, you want to use a yarn that you can easily control.

However, like any other crochet pattern, the type of yarn that you use for your amigurumi depends on the outcome that you'd like. And we'll be explaining the advantages and disadvantages of each yarn below.
What's the best yarn for amigurumi?
100% cotton or mercerized cotton: Mercerizing is a treatment for cotton, fabric, and thread which changes the chemical composition of these fibers. By mercerizing cotton, the fiber becomes stronger, and its texture becomes shinier and softer. As a result, this type of yarn is perfect for crochet toys that children will use. Moreover, the yarn's texture allows for a better stitch definition that can create tiny details, and it also holds the amigurumi pattern's shape very well.

Semi-cotton (50% cotton and 50% acrylic): Since this yarn has a lower cotton percentage, semi-cotton is more lightweight than 100% cotton. If you're creating a small crochet amigurumi, this yarn can work really well. But for a larger project, the doll will probably lose its shape. This type of yarn is also super easy to care for. If your amigurumi is dirty, you can just pop it into the washing machine without worrying about messing up its quality.

Acrylic: If you're on a budget, you might prefer to use this type of yarn. Acrylic yarn is one of the cheapest yarns out there, so it's super friendly for your wallet. And if you're creating an amigurumi doll with a lot of colors, this yarn has a variety of colors. Like semi-cotton yarn, this type of yarn is machine washable since it's made out of synthetic material. However, acrylic yarn can be difficult to use for amigurumi. If the stitches aren't tight enough, the shape can pull out easily, and, as a result, you can't crochet fine details.
Amigurumi…hard to say, easy to do! With these free amigurumi crochet patterns, you'll find yourself falling in love with this craze in no time! Check out these free amigurumi patterns:31 Free Amigurumi Crochet Patterns
Which yarn will you be using for your crochet amigurumi?
Let us know in the comments below!
Your Recently Viewed Projects
Join our community of 5 million crafters!
Get free craft projects, exclusive partner offers, and more.
Thank You for Signing Up!
There was an issue signing you up. Please check your email address, and try again.