How to Use Polymer Clay: A Guide for Beginners
Learn the basics of making polymer clay crafts with this stellar guide for beginners.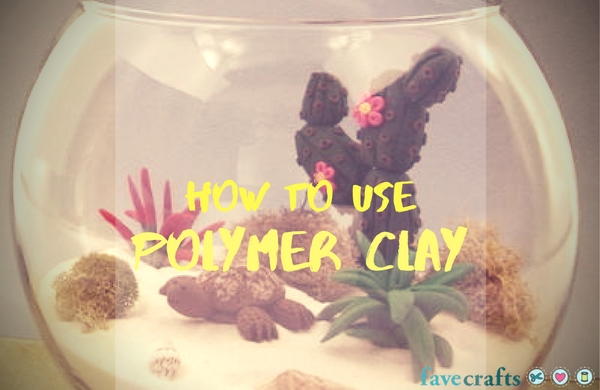 How to Use Polymer Clay
It's no secret that polymer clay is one of the most versatile crafting tools available. Polymer clay crafts can range from colorful and zany buttons and jewelry pieces to decorative figurines and wall art masterpieces. There's no limit to what you can create with polymer clay crafts. If you can dream it, then this malleable tool can build it.

In How to Use Polymer Clay, you'll learn the best clay modeling techniques to help get you started on your exciting adventure into crafting with clay. You'll learn proper conditioning, sculpting, and baking techniques. While there are many "how to" articles out there, this polymer clay tutorial zeroes in on the best tips and tricks for beginners. These instructions are simple, so you can easily dive into a whole new world of crafting. As a bonus, we've listed some fantastic polymer clay ideas at the end to spark your imagination and give you a fantastic jolt of inspiration.  
 
Materials List
Polymer clay
A clean and smooth surface to work on
Slicing blade
An oven
Toothpick or pencil for poking holes
Optional: cookie cutters
Optional: a rolling pin and/or pasta machine
Optional: latex gloves
In order to ensure that your polymer clay projects will look their best and won't crack or break, follow these instructions carefully. 
Work Surface
Before opening your new polymer clay, secure a smooth and even workspace. Cardstock works well as a flat surface. Ceramic tile is also recommended for sculpting.

Ideally, you want a big enough workspace to where you can roll the clay into balls, logs, and other shapes for your polymer clay crafts. Ceramic tile is the preferred workspace option because it can be easily picked up and set on top of a baking sheet when your sculpt is ready for baking. 

Optional: wear latex gloves to prevent the risk of any unwanted fingerprints showing on your polymer clay projects. 
Conditioning
In order to prime polymer clay for use, you need to condition it. Simply break the clay into pieces and roll them around in your hands. Once the clay gets warmed up, it'll soften and become much more malleable. You could also seal clay in a zip bag and submerge it under warm water for 10 minutes. This will help soften the clay, so you won't have to work your hands as hard. 

Optional: Many crafters use a pasta machine to condition polymer clay. Simply run the clay through the machine on its largest setting to soften it. Once you've used a pasta machine for softening clay, do not use it for food purposes any longer. 
Sculpting
Once your clay is soft and warm, you can start bringing your polymer clay ideas to life. Slicing blades are perfect for helping to mold and shape your designs. Toothpicks and pencils also work well when it comes to poking holes. Depending on how complicated and intricate your polymer clay design is, craft stores offer a wide variety of nifty tools to help you sculpt. 
Baking
When you've finished sculpting, you must bake your polymer clay project in order to make the sculpt permanent. Each variety of polymer clay is different, but most clays bake between 215 - 325 degrees Fahrenheit. The approximate temperature should be listed on the packaging, as well as how long the clay should bake. Do not undercook clay. It's okay to overcook clay by a few minutes. 

When your sculpt cools, feel free to add some acrylic paint to give your polymer clay craft a splash of color! 
Sealing and Protecting
Sealing or glazing polymer clay crafts isn't always necessary. Once baked, your sculpt should be safe to display and shouldn't crack. However, if you want to add an extra layer of gloss or protection, there are many polymer clay gloss and matte glazes available. Acrylic seal coats also work well. The benefit to sealing or glazing is that your sculpt will have a nice shine to it. 
Polymer Clay Ideas
The following polymer clay crafts are just a few of the many wonderful creations you can sculpt. 
Your Recently Viewed Projects
Join our community of 5 million crafters!
Get free craft projects, exclusive partner offers, and more.
Thank You for Signing Up!
There was an issue signing you up. Please check your email address, and try again.