Does Crochet Use More Yarn Than Knitting?
This yarn debate is one that's not as easy to answer as you might think.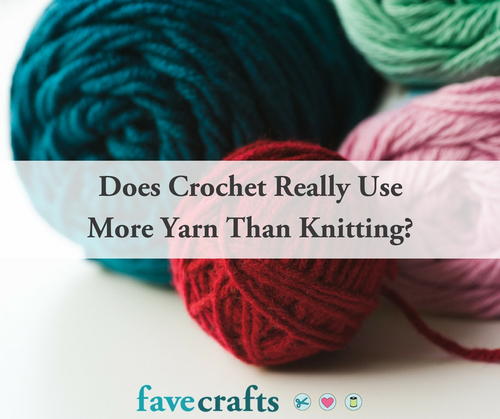 This age-old debate among knitters and crocheters isn't as easy to settle as you might think.

While there are some instances where crochet uses more yarn, this isn't always the case. For the most part, these two crafts use roughly the same amount of yarn. In fact, there are certain knitting stitches that even use more yarn than crochet.

That said, there is more to this debate than that, and it can't really be answered with a simple yes or no.
Does Crochet Use More Yarn Than Knitting?
Well, kind of. The differences between knitting and crochet are numerous, and there are a lot of factors that go into determining the amount of yarn that will be used in the final product. The amount of yarn you will end up using has more to do with the type of yarn, needle size or hook size, and gauge than it does with whether you're knitting or crocheting.
Knitting Stitches vs. Crochet Stitches
A lot of what determines how much yarn a given piece of fabric will use has to do with the particular stitches that you're using. In knitting, there isn't a huge difference between the amount of yarn used in different stitches. The one that really stands out among knitting stitches is stockinette stitch, which uses noticeably less yarn than other stitches.

So which stitches use more yarn?

There are countless knitters and crocheters who have put this myth to the test. This experiment by Micki from A Thing 4 String shows that, while crochet stitches do use a little bit more yarn than knitting stitches, the difference is small. In fact, this test also shows that garter stitch and single crochet use pretty much the same amount of yarn. Other writers in the knitting and crochet blogosphere have found pretty much the same thing -- what matters is the stitch you're using, not whether or not it's knitting or crochet.

Knitting: Stockinette Stitch and Garter Stitch
In pretty much every scenario, stockinette stitch will use less yarn than garter stitch, although it's not always that simple. As mentioned above, the type of yarn used, the needle size, and the gauge all have an effect on how much yarn is required for the final product.
Crochet: Single Crochet and Double Crochet
In the world of crochet stitches, single crochet does use noticeably more yarn than double crochet. That said, much of what determines how much yarn is used is how tight your crochet stitches are. That can sometimes even vary person-to-person.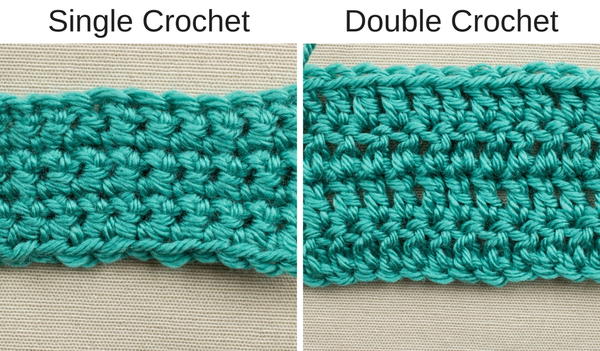 Where Does This Myth Come From?
While there's something to be said for the practicality of stitches that use less yarn to cover the same area, the difference is so small that you probably wouldn't even notice if you aren't looking for it. So where did this debate between knitters and crocheters originate?

Part of it might be a simple exaggeration of the differences between the two. Afterall, who doesn't like a little friendly rivalry? Another part of what spread and added to this yarn myth is the fact that crochet uses yarn a lot faster than knitting does. If you're going through yarn a lot faster, it will probably feel like you're using more yarn, even though that's not necessarily the case.
How Can I Figure Out How Much Yarn I'll Need?
If you want to know how much yarn your next project will need before you head to your local yarn store, you're in luck.

For knitters, StashBot is a great app that you can download that will calculate the amount of yarn you'll need with incredible precision. For crocheters, check out this handy yarn calculator from Crochet World!
Does crochet use more yarn than knitting in your experience?
Let us know in the comments!
Your Recently Viewed Projects
Join our community of 5 million crafters!
Get free craft projects, exclusive partner offers, and more.
Thank You for Signing Up!
There was an issue signing you up. Please check your email address, and try again.